Top 10 Online Roulette Tips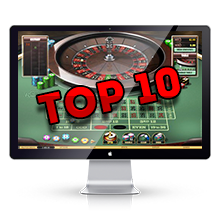 If you have never played online roulette before then it can be a daunting and confusing environment. However with our handy tips and pieces of advice you should be able to find all the preparation you need before making that first real money bet
Get a good welcome bonus
There are hundreds of online casinos available to Canadian roulette players, and all of them want to attract as big a pool of players as possible for their real money games. Many do this by offering generous welcome bonuses, either matching your initial deposit, more than matching your initial deposit, offering free money or free chips, or some combination of the above.
It can be worth reading the fine print to ensure you find a welcome bonus that's perfect for you. If you are a big roulette player then avoid bonuses that are only for slots or blackjack, while if you are claiming an unlockable bonus make sure you are likely to play enough real money games to unlock the full amount.
Don't gamble above your limit
If you have a run of bad luck it can be tempting to bet bigger in an effort to chase your losses, however in the long run this won't prove profitable as many players have run out of money before they have been able to take advantage of their luck turning.
It can be useful to set yourself limits before you start playing. That way it is easier to avoid getting carried away, and you will generally have more fun while playing roulette online.
Bank your wins
It is tempting for roulette players to remember their big wins all too readily and allow losses to mount up without noticing in the same way. Sometimes it can be beneficial to bank a handful of wins so you have money in the bank, almost like a rainy day fund for those times your luck is out.
If you want to go one step further, how about keeping a detailed profit and loss record? That way you will always be on top of how much you have won and lost playing roulette online and be in less danger of letting things get out of control.
Don't drink and gamble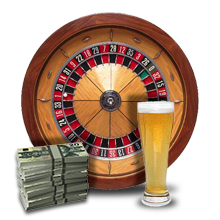 One of the easiest ways to allow things to spiral out of control is to play after drinking. You might think 'it's only a few spins', but it pays to be careful.
If you have been drinking then your judgement may be off, and for every big winning run boosted by the sense of bravado that accompanies drunken play, there will be another player who wakes up the morning after a drunken session with a hole in their online casino balance and a sense of regret.
Learn systems but don't be a slave to them
Gambling 'systems' can be a good way to learn control and routine when starting out playing roulette for real money, and there is certainly plenty to be said for their usefulness in introducing new players to the game. However they should not be considered the be all and end all.
It is worth remembering that no system will entirely negate the house advantage, so while they can serve you well there is no harm in moving on from one system to another. You can even reject recognised systems altogether, if you like, and mix things up with some new ideas of your own. A system is no good if you're playing robotically and not enjoying your time at the tables.
Learn the different bets
When starting out playing online roulette, most rookie players will be familiar with the main bets like red or black, odd or even or high or low. Many will also regularly bet streets, corners and sets of 12 numbers.
However it can help to get a feel for different bets, and different combinations of bets, that can be played at any given time in any given roulette variant. Not only does it look impressive, but it can also help you get more play for your money.
Learn the roulette variants
In any other gambling game, one of the first things you would do is find out your chances of winning, so it can be useful to do the same with roulette by learning the differences between different variants.
Some games will offer better odds of winning than others, while some allow different and more entertaining features. It doesn't matter which you settle on, but being able to explain why you have a certain preferred variant can be useful.
Don't play while tired
Similarly to playing while drunk, a tired roulette player is rarely a good roulette player. You can find yourself making mistakes you wouldn't have dreamt of making if you were fully alert.
If you are noticeably tiring, take a break, and we don't mean just play something else. It can be beneficial to break up sessions by going for a run or walking round the block, anything that changes your surroundings and gets the blood pumping.
Play at a reputable casino
With Canadian roulette players able to choose from so many different online casinos these days, there will inevitably be some around which are less than reputable. However this also means there are more with a good reputation offering fair and safe real money roulette games.
Check out our reviews section to find out which of the casinos can be trusted. This can give you peace of mind when you sit down to place your first real money bet.