Premier Roulette Diamond Edition: Quick guide to playing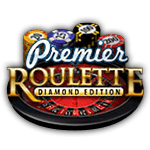 The growing popularity of online roulette in the 21st century has brought with it the creation of a plethora of new versions. From the weird all the way through to the wonderful, and you can play them all for real cash across a range of online Canadian casinos.
One of the most curious, and popular, to appear is Premier Roulette Diamond Edition.
We go into detail about what sets this version apart from the rest:
Originated in the live casino environment
Six different wheel colours
Combined single screen play
TOP PREMIER SITES FOR CANADIAN PLAYERS
1
Casino
Rating
Bonus
Payout %
Visit Site

98.75%
Read Review
History of Premium Roulette Diamond Edition
Making its debut in 2008, Premier Roulette Diamond Edition is just one of a growing number of variants which has cropped up in the 21st century, with internet technology providing players in Canada and overseas with a fantastic range of games to play. However it may surprise you to learn that Premier Roulette Diamond Edition actually first emerged at a bricks and mortar casino in America's famous Atlantic City.
Still, while it might have its origins in the live casino environment, Premier Roulette Diamond Edition is just like many other variants in the sense that it has risen to popularity in the online casino world. In 2023, Canadian players and their fellow gamblers across the world can play Premier Roulette Diamond Edition at more online roulette sites than ever before.
Differences from other roulette games
The most significant addition in Premier Roulette Diamond Edition is the inclusion of six colors rather than four. As well as the usual red or black, players can also bet on yellow, green, purple or blue. However this is not just for novelty value, rather it adds a new level excitement to the color bets available to Canadian players online.
Of course, some players may miss the classic even-money 'red or black' bet which is eliminated by the addition of yellow, green, purple and blue, however the popularity of Premier Roulette Diamond Edition suggests this variation has enough fans of its own. It is also worth remembering that, as a game which originated in the United States, Premier Roulette Diamond Edition allows players to play online on a European Roulette table or an American Roulette table.
Bets and payouts
For the most part, Premier Roulette Diamond Edition offers the same bets and payouts as its classic European or American counterparts. These include:
The same inside bets on one, two, three, four or six numbers
The five-number bet (American table only)
Column or dozen bets (paying 2:1)
Even-money bets on odd/even or high/low (paying 1:1)
However the presence of six colors throws a couple of alternatives into the mix, as well as eliminating the even-money 'red or black' bet. It all comes down to personal preference, really.
We found the best Premier Roulette sites
Seeing as this variant of online roulette is so new, even some more experienced online roulette players could be forgiven for not being sure which sites are the best places to play Premier Roulette Diamond Edition. However if you find yourself in this situation you need not worry, as not only are our reviewers extremely experienced, but they have put in the hours testing out all manner of Premier Roulette Diamond Edition games available to online roulette players across Canada.
Our review team is made up of players who have been regulars on the online roulette circuit for years upon years, so if anyone knows what to look out for it is them. Their recommendations carry weight because they are based on all the most important factors, such as quality of gameplay, range of deposit and withdrawal options for Canadian players, and of course the selection of fantastic bonuses available at online roulette casinos in 2023. In short, they will be able to answer pretty much any question that might cross your mind before you start playing Premier Roulette Diamond Edition for real money.
FAQ About Premier Roulette
Premier Roulette also goes by Diamond Edition - or DE - in some cases. The thing to realize is that they are all the same. The one difference lays in what varietal the PR or DE is based on, i.e. American or European. You may find both forms available online. Unlike the standard format where there are black numbers and red numbers (other than zero/double zero), they also have multiple colors. Premier Roulette has a six-color rainbow assortment to bet on. So the payouts are pretty much the same. However, in the place of even-money bets on red/black, you will now have a chance to bet on multiple colors too.
The bets and table layout are very similar to a standard European or American Roulette game. The primary difference comes by way of the even money red/black option. In place of only two colors to bet on, there are six colors to bet on. This addition makes for a very exciting way to put your intuitive side on display.
Premier Roulette is growing in popularity. It made its way onto the Roulette scene in 2008 at a land-based casino, and has since grown in popularity online. For avid gamblers who get tired of the same ole' same ole', this is a perfect way to get out of your comfort zone and reinvigorate your game.
What makes Premier Roulette different is that in place of just even bets on red/black, you will have the option of betting on many colors and inciting a gambling frenzy. Imagine the excitement of winning on multiple colors! Because Premier Roulette has only been around for a couple of years, you can anticipate the technology to be state of the art. Indeed, its vivid 3D graphics are super exciting.
The odds are different in that the even money bet of black/red is no longer a lone safe bet. Rather, there are six colors to choose from. The rest of the game is exactly the same as the traditional American or European varieties.
You can use a Roulette system if you so desire. However, keep in mind that it is always best to try out a few systems before swearing that one works better than another. Sometimes one strategy works well one day, and the next day it doesn't do you much good. Trying to keep up with frequency of numbers is refutable when it comes to online gambling due to random number generators, i.e. RNGs. In the end, whether using Paroli where you win three in a row and double your bet each subsequent spin, or the Martingale where you double your bets after losses, the best bet is to bet within your bankroll limits and always leave the table with money in your pocket.
Not all online casinos available to Canadian players offer this exciting version of online Roulette. Because we know that as a fact, we did the leg work for you and rounded up some of the best online Roulette sites that not only offer Premier Roulette, but also offer outstanding bonuses, high rates of return, multiple deposits and withdrawals, and superb technology.
More Games