Live v Online - Is online roulette better than live?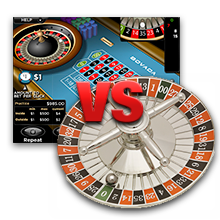 Most Canadian roulette players will have tried playing roulette in a bricks and mortar casino before trying their hand at its online equivalent. However there may be some hesitance before taking the plunge and playing real money roulette games at one of the hundreds of casinos that serve players from Canada.
We are here to dispel some of the myths about online roulette, and give you a sense of why the games on the internet are proving so popular. Indeed after reading this you may find out something you didn't know before that opens your eyes to the differences between live and online roulette.
Main pros and cons
Some of the main differences between live and online roulette are obvious, while others are less so. Among the main pros and cons are:
Wider selection of games
Different stakes for real money roulette
Quicker gameplay online
Greater accessibility
Online-only bonus offers
Different variants of roulette that only exist online
Of course, we should also recognise that, while live chat and live dealer games online have progressed hugely in recent years, there is sometimes no substitute for the real human interaction you get with a game of roulette at a bricks and mortar casino. The great thing here is that you don't need to choose one or the other, you can play online when you feel like it and still allow yourself to occasionally head to a real casino for your favourite roulette games there.
Game selection
A lot of bricks and mortar casinos may find themselves restricted by simple factors such as a finite number of tables on the casino floor. This means they need to be selective when it comes to which variants of roulette they offer, for which stakes and at what time of day.
In contrast, online roulette casinos have the luxury of being able to offer as many games as they want, within reason, as their digitised system is not held back by space constraints. Because of this, you will generally find it easier to find your favourite stake and variant online at any time of day, whereas at a live casino you might find yourself waiting for a seat at your chosen table.
Lower stakes
One thing about physical casinos is they have dealers manning the tables at all times and they need players to spend enough money for them to afford to pay these staff members. This often means the minimum stakes in live games are substantially higher than they would be online.
Because of the speed of online roulette games, you can fit in many more spins per hour compared to a situation where an actual person is physically counting out the bets and spinning the wheel. This means online casinos can afford to have significantly lower minimum bets, making it easier for players to get plenty of enjoyment without spending a huge amount of money. You can even play some games for free if you want to try them out before progressing to real-money play.
Unique variants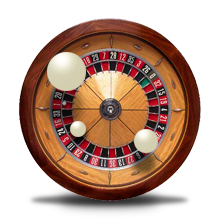 Have you ever played multi-ball roulette? How about multi-wheel roulette? If you have only ever played roulette at a land-based casino then the answer is likely no, however a growing number of online casino sites have started offering these new and exciting variants of the popular game.
Technological progress means the range of games on offer are only really restricted by the imagination of developers. And of course many of these new and unfamiliar variants can be tried out for free.
Bonus offers
There is no real incentive for a land-based casino to give you free money just for turning up, particularly if it is the only venue in a radius of dozens of miles. However the huge amount of competition between online casinos means welcome bonuses are commonplace for Canadian players.
Before signing up to an online casino, if you read up on it you can find out what offers are available. These can range from first deposit bonuses (where your initial real-money deposit is doubled by the casino) to free money to try out things like a new game variant or a new mobile casino lobby. You won't get that in your local casino.
Accessibility
Finally, perhaps the most underrated advantage of online roulette is its accessibility. Rather than spending money on petrol and spending time driving out to a bricks and mortar casino, all you need to do when playing online is to load up your computer and within minutes you can be winning real money.
It means you can play shorter sessions rather than feeling as though you need to stick around at the casino longer to justify the time and money spent in getting there. That in turn can help you play with a more relaxed mind-set, allowing you to properly enjoy your time at the tables.