Mobile vs Desktop Roulette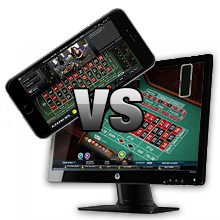 Mobile roulette is a relatively recent phenomenon, only really coming into its own once smartphone technology truly came into its own. Originally there was no contest when it came to the debate about whether the limited mobile versions of the game were even a patch on their desktop equivalent, however things are much closer these days.
In this section we will run the rule over desktop and mobile roulette on matters such as:
Availability
Screen size
Ease of gameplay
Game selection
Bonuses
At the end, hopefully you will be able to make an informed decision about whether the next time you play roulette you go for the mobile or desktop version.
Availability
We know online roulette players will often have busy lives and want to be out and about on a regular basis, so the ability to play roulette on the move should not be underestimated.
With mobile roulette games you can play for free or for real money while on the bus to work, out at a coffee shop, or even while at the gym. And of course, the accessibility of mobile devices means you can use your phone as a second screen while watching TV, rather than using a cumbersome computer.
Screen size
This was initially one of the biggest arguments against mobile roulette. Smaller screens, coupled with limited memory on early mobile phones, made for slow and clunky play that couldn't stand up to powerful desktop PC games. However in the last couple of decades this disadvantage has all but disappeared.
With sophisticated tablet devices, as well as phablets (comfortably larger than your standard mobile phone), coupled with high-end 4G internet, games run much more smoothly and are almost flawless, while adding a touchscreen element not available on most desktops. In addition, we are seeing laptops get smaller and smaller, particularly with the advent of netbooks and chromebooks, seeing mobile and PC come closer together in many respects.
Ease of gameplay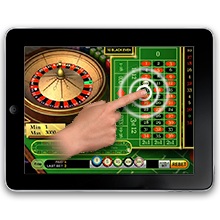 It was fairly recently that we saw the first tablet-optimised roulette games released, however these make great use of touchscreen technology and many actually prefer them to clicking buttons in front of a computer. Things have only improved in recent years, with advances in HTML5 technology and innovative online casino teams seeing new levels of sophistication.
Of course there is still the familiarity advantage when it comes to desktop roulette games. If you are used to playing a certain style of online roulette then you might not actually want the extra features and elements found on a mobile device, and there is something to be said for sticking to what you know best.
Game selection
It is worth remembering that many mobile casino apps and sites are predominantly browser-based, and in contrast the downloadable desktop casino sites have the advantage of a much larger selection of games merely by virtue of their significantly larger amount of memory. This is felt more by slots players than roulette players, as the choice of literally hundreds of different slot games on desktop might not be replicated on mobile, but roulette players may still be affected.
You may find that the mobile or tablet version of your favourite Canadian roulette casino only offers a small selection of games, and perhaps it does not offer live dealer roulette on mobile devices. If this is likely to impact your enjoyment of the game, then you may prefer to stick to desktop roulette sites for the time being, however it can still be fun to go back and forth to mobile apps now and again.
Bonuses
Even in 2015, not every single online casino with roulette games has a fully functioning mobile casino equivalent, and many new mobile and tablet versions are launching on almost a daily basis. One positive associated with this is that Canadian roulette players who don't mind trying out different places to play can often take advantage of generous bonus offers to test out a new mobile or tablet casino as soon as it launches for real money play.
On occasion, these new mobile casinos will provide no-risk bonuses, meaning you can try out mobile roulette games without risking a single cent. If you're not sure whether mobile roulette is for you, this can be a great way to find out for free and potentially win some money in the process.
We found the best sites
Of course, you should always do your due diligence to ensure you can trust every new mobile casino and that the offers available are not too good to be true. Thankfully our team of reviewers have investigated a huge number of mobile casino sites to find the best and most trustworthy mobile roulette games around with the best bonuses and game selection.
Our reviewers are vastly experienced roulette players, who have played online roulette for real money for years and know exactly what to look out for in these sorts of game. They will recognise when a game has great graphics, enjoyable gameplay and a wide selection of mobile roulette variants, and they are entirely independent so they will not be afraid to say if a mobile or tablet roulette offering is not quite up to scratch.